STUDI DESKRIPTIF : PSYCHOLOGICAL WELL BEING PADA REMAJA YANG KECANDUAN BERMAIN GAME ONLINE DI SURABAYA
Aditia Christianti

Fakultas Psikologi Universitas Surabaya

Nanik Nanik

Fakultas Psikologi Universitas Surabaya

Vivi Setiono

Fakultas Psikologi Universitas Surabaya
Abstract
Penelitian ini bertujuan menggambarkan psychological well being remaja kecanduan bermain game online di Surabaya. Metode penelitian ini ialah metode deskriptif kuantitatif dengan menggunakan angket baku kecanduan bermain game online dari Lemmens, et al. (2009) dan psychological well being dari penelitian Ryff dalam Vescovelli, et al. (2014). Selain itu peneliti juga menggunakan angket terbuka terkait identitas subjek, pendidikan, usia, jenis kelamin, serta kecanduan bermain game online dan psychological well being. Sampel subjek penelitian 70 remaja dengan rentang usia 14 – 20 tahun. Teknik pengambilan data menggunakan metode incidental sampling. Hasil penelitian menunjukkan bahwa sebagian besar subjek memiliki psychological well being yang tergolong baik secara menyeluruh maupun per aspek-aspeknya kecuali pada aspek penerimaan diri. Pada tingkat kecanduan bermain game online secara dominan subjek tergolong tinggi. Alasan subjek bermain game online adalah untuk hiburan dan upaya dalam mengatasi tekanan pada tuntutan prestasi. Oleh karena itu, agar murid tidak melampiaskan tekanan dengan bermain game online maka lembaga pendidikan disarankan menyediakan sarana seperti kegiatan-kegiatan positif di sekolah.
Downloads
Download data is not yet available.
References
Ade. (2011). Kecanduan game online, pemuda diamuk masa. Diakses 29 Juli 2014, dari http://www.kabar6.com/tangerang-raya/tangerang-selatan/165 kecanduan-game-online-pemuda-diamukmassa.html

Bayu. (2011). Sering bolos, pakai uang jajan hingga mencuri. Diakses 23 Juli 2014, dari http://www.sapos.co.id/ index.php/berita/detail/Rubrik/9/15468

Bierman, A., Fazio, E. M., & Milkie, M. A. (2006). A multifaceted approach to the mental health advantage of the married. Journal of Family Issues, 27(4)

Cardak, M. (2013). Psychological well being and internet addiction among university students. The Turkish Journal Applied Social Psychology, 5, 189–193.

Griffiths, M. D., & Hunt, N. (1998). Dependence on computer games by adolescents. Psychological Reports, 82, 475–480.

Hurlock, E. B. (1980). Developmental psychology (5th ed.) (Istiwidayanti & Soedjarwo, Pengalih bhs.). Jakarta: Penerbit Erlangga.

Kurniawan. T. (2011). Gila game online, ABG asal Cipinang tewas di warnet. [http://news.okezone.com/read/2011/12/05/338/538005/gila-game-online-abg-asal-cipinangtewas-di-warnet]

Lemmens, J. S., Valkenburg, P. M., & Peter, J. (2009). Development and validation of a game addiction scale for adolescents. Journal of Media Psychology, 12: 77-95.

Nuswandana, A. (2003). Ragnarok, awas jangan sampai bablas. http://www.kompas.com/kompas-cetak/0311/14/muda/686761.html. Diakses tanggal 24 Maret 2014.

Seay, A.F. (2006). Project Massive: The Social and Psychological Impact of Online Gaming. Disertasi tidak diterbitkan. Carnegie Mellon University, Pennsylavnia.

Sublette, V. A., & Mullan, B. (2012). Consequences of Play: A Systematic Review of the Effect of Online Gaming. International Journal of Mental Health and Addiction, 10(1), 3-23.

Tridhonanto, A dan Beranda Agency. (2011). Optimalkan Potensi Anak dengan Game. Jakarta: Elex Media Komputindo

Vescovelli, F., Albieri, E., & Ruini, C. (2014). Self-rated and observer-rated measures of well-being and distress in adolescence: an exploratory study. Journal of SpringerPlus, 3, 490.

Virdhani, M. H. (2011). Pamit ke Warnet, Bocah Ini Enggak Pulang- pulang. [http://music.okezone.com/read/2011/10/02/338/509705/pamit-ke-warnet-bocah-ini-enggak pulang- pulang]


Wan, C. S., & Chiou, W. B. (2006). "Psychological motives and online games addiction: A test of flow theory and humanistic needs theory for Taiwanese adolescents." Cyberpsychology & Behavior, 9(3), 317-324.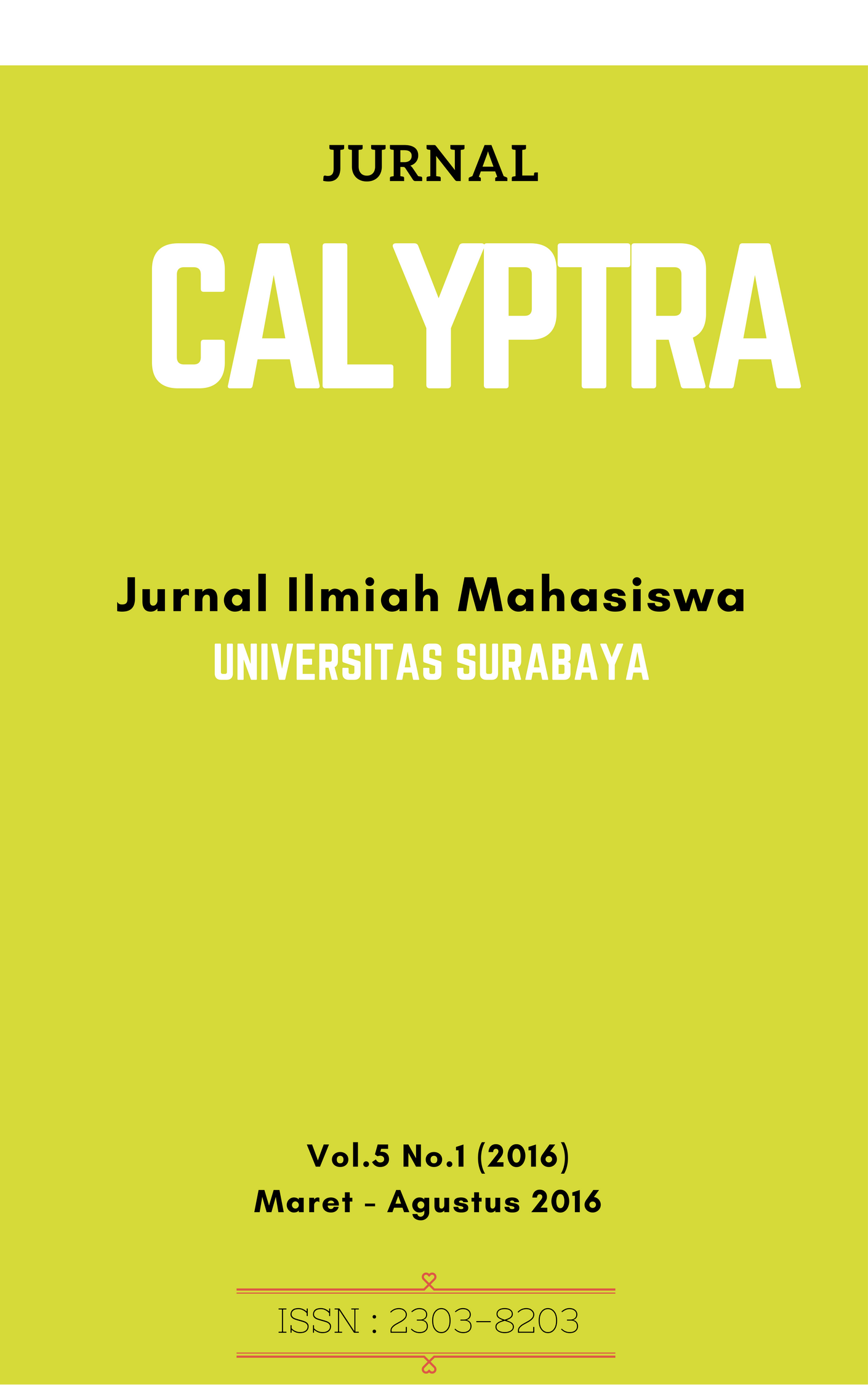 How to Cite
CHRISTIANTI, Aditia; NANIK, Nanik; SETIONO, Vivi. STUDI DESKRIPTIF : PSYCHOLOGICAL WELL BEING PADA REMAJA YANG KECANDUAN BERMAIN GAME ONLINE DI SURABAYA.
CALYPTRA
, [S.l.], v. 5, n. 1, p. Hal. 1 - 12, mar. 2016. ISSN 2302-8203. Available at: <
https://journal.ubaya.ac.id/index.php/jimus/article/view/2713
>. Date accessed: 09 july 2020.
Section
Bidang Psikologi (K)