STUDI DESKRIPTIF FAKTOR-FAKTOR ATM SERVICE QUALITY PADA ATM BCA DI SURABAYA
Ardiyanto Ardiyanto

Jurusan Manajemen Fakultas Bisnis dan Ekonomika Universitas Surabaya

Siti Rahayu

Jurusan Manajemen Fakultas Bisnis dan Ekonomika Universitas Surabaya

Prita Ayu Kusumawardhany

Jurusan Manajemen Fakultas Bisnis dan Ekonomika Universitas Surabaya
Abstract
Penelitian ini bertujuan untuk mengkonfirmasi faktor-faktor ATM Service Quality pada penelitian sebelumnya masih relevan digunakan pada saat ini objek yang diambil adalah ATM BCA di Surabaya Pengolahan data dilakukan dengan menggunakan bantuan program SPSS 18 for windows. Teknik pengambilan sampel yang digunakan dalam penelitian ini adalah non probability sampling dengan judgmental sampling. Jumlah sampel yang digunakan dalam penelitian ini adalah 150 responden. Data di olah menggunakan mean, standar deviasi dan Confirmatory factor analysis.  Penelitian ini menyatakan dari 7 dimensi ATM Quality yaitu (1)Reliability, (2)Convenience, (3)Responsiveness, (4)Ease to Use, (5)Fulfillment, (6)Security, (7)Accuracy. Yang terbagi dalam 28 pernyataan pada penelitian sebelumnya yang masih relevan digunakan untuk penelitian. Semua elemen pernyataan dapat digunakan karena memiliki loading faktor yang telah ditentukan
Downloads
Download data is not yet available.
References
Astuti W. (2011) Proses dan dampak dari mesin ATM. Fakultas Ekonomi Unikom.,8:21-24

Eriksson, K. and Nilsson, D. (2007), "Determinant of the continued use of self-service technology: the case of internet banking.", Technovation, Vol. 27 No.4, pp. 19-67

Joseph, M., Mcclure, C dan Joseph,B. (1998), "Service quality in the banking sector: the impact of technology on service delivery in the banking sector", International Journal of Bank Marketing, 17(4), 91-182

Kotler dan Amstrong (2001), Prinsip-Prinsip Manajemen, jilid 1 edisi kedelapan, alih bahasa oleh damos sihombing, MBA., Penerbit Erlangga, Jakarta

Kotler, Phillips (2004), Manajemen pemasaran jlid 2. Terjemahan Drs. Benyamin Molan, Penerbit Gramedia.

Kotler, Phillips (1997), Marketing Management: Analysis, Planning, Implementation, and control, Ninth Edition, Pratice Hall international Inc., Englewood Cliffs, New Jersey.

Mulaik A. Stanley, (2009), Linier Casual Modeling With Structual Equations Chapman & Hall/Crc Statistic in the social and behavioral sciences statistic in the social and behavioral science series. Crc press

Maryama, S. (2013) Penerapan e-commerce dalam meningkatkan daya saing usaha. Jurnal Liqudity, 2(1). 73-79

Narteh, B. (2013). Service quality in automated teller machines: an empirical investigation. Emerald, 23(1), 62-89.

Ndubisi, N.O., Khoo-Lattimore, C., Yang, L. dan Capel, C.M (2011), The antecedents of relationship quality in Malaysia and New Zealand, International Journal of Quality & Reliability Management, 28(2). 48-233

Parasuraman A, Zeithaml VA, Berry LL (1988). SERVQUAL: a multi-item scale for measuring consumer perceptions of service quality. J. Mark.,64(1):12-40.

Verhoef, P.C., Neslin, S.A. dan Vrommen, B (2007). Multichannel customer management: understanding the research-shopper phenomenon", International Journal Of Research in Marketing., 24(2). 48-129

Wintoyo, R.(2014), Analisis Faktor Quality Anime Festival Asia Indonesia 2014, Fakultas Bisnis dan Ekonomika Universitas Surabaya

Yuli 2001, Pengaruh Kualitas Layanan Terhadap Kepuasan Pelanggan Bank BCA Cabang Darmo Di Surabaya, Fakultas Bisnis dan Ekonomika Universitas Surabaya

Zeithaml, Valerie A, A. Parasuraman dan Leonard L.berry (1990). Delivering Quality Service: Balancing Customer Perceptions and Expectations, The Free Press, New York.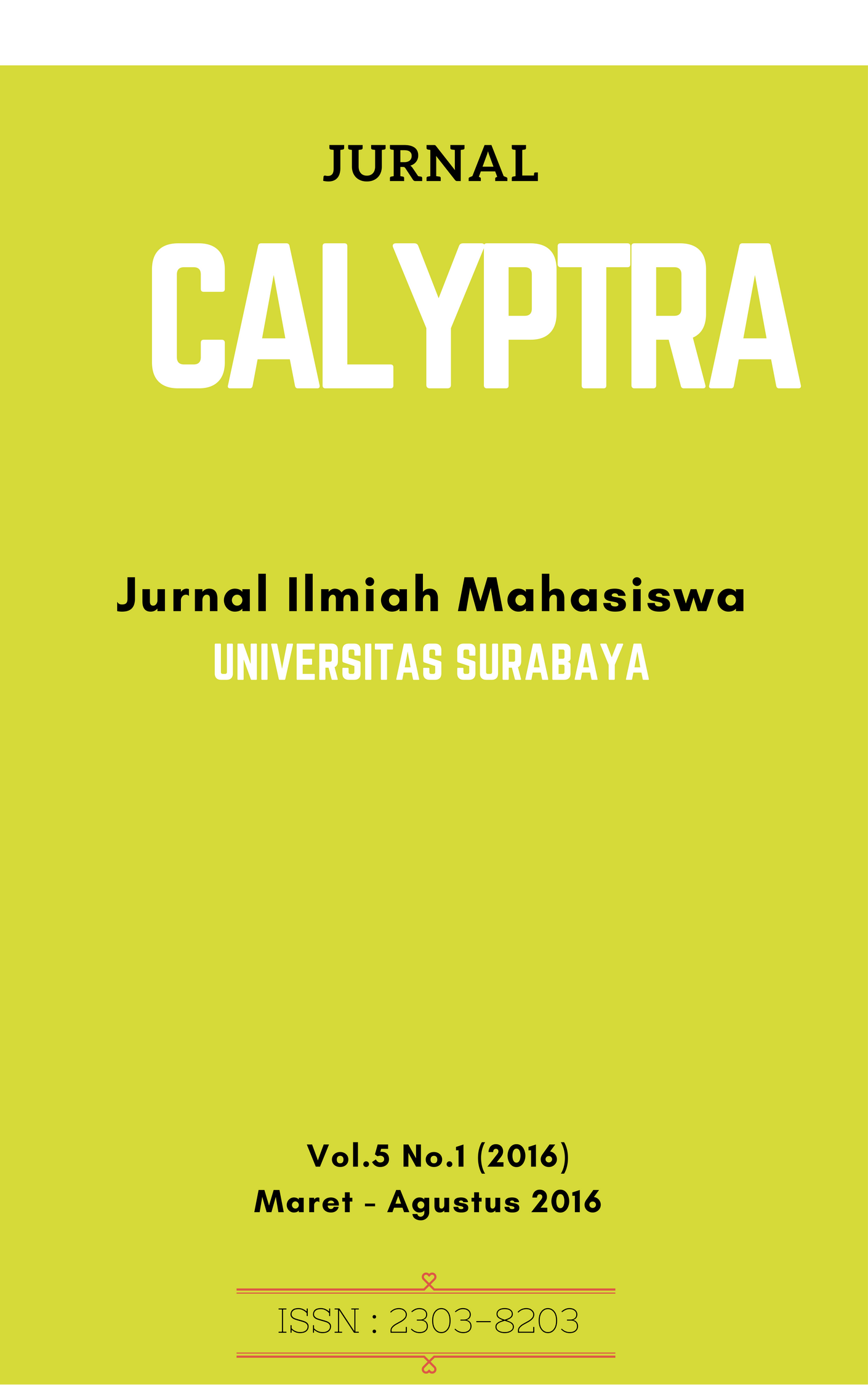 How to Cite
ARDIYANTO, Ardiyanto; RAHAYU, Siti; KUSUMAWARDHANY, Prita Ayu. STUDI DESKRIPTIF FAKTOR-FAKTOR ATM SERVICE QUALITY PADA ATM BCA DI SURABAYA.
CALYPTRA
, [S.l.], v. 5, n. 1, p. Hal. 1 - 20, mar. 2016. ISSN 2302-8203. Available at: <
https://journal.ubaya.ac.id/index.php/jimus/article/view/2729
>. Date accessed: 08 july 2020.
Section
Bidang Manajemen (M)