Kajian Tentang Tenun Sesek dari Desa Pringgasela, Lombok Timur, Nusa Tenggara Barat
Ninik Juniati

Desain Fashion dan Produk Lifestyle, Fakultas Industri Kreatif, Universitas Surabaya
Abstract
Abstract—Development of fashion world has been following fashion trends including textiles, colors, shapes,fabric textures, and all other details in general fashion terms. One of the exploration and development in textiles is called wastra. Wastra isn't widely known by public. Wastra technique can come in various form, for example Tenun Sesek from Pringgasela Village, East Lombok, West Nusa Tenggara, Indonesia. This research aims to understand Tenun Sesek, from the preparation before weaving process until it serve to customer. This research also consist the explanation to preserve the sustainability process build by weavers in all related matters like designing motifs, dyeing yarn, and the weaving process itself. This research use qualitative descriptive approach with interview and observation as main focused methods. This methods was chosen to explore the subject more briefly. This methods will be supported with documentation photos to capture all the details and validated the data retrieval process. Output from this research is recycling process in every aspect to maintain the product life cycle.
Keywords: Tenun Sesek, Weaving, Pringgasela Village
Abstrak—Perkembangan fashion dunia selalu berkembang mengikuti fashion trend yang berlangsung. Fashion trend ini dimulai dengan perkembangan tekstil, warna, bentuk, tekstur kain dan detail busana secara global. Ide-ide untuk eksplorasi kain juga bisa berasal dari wastra yang masih belum begitu dikenal, salah satunya adalah Tenun Sesek dari Desa Pringgasela. Berdasarkan penjelasan tersebut, penelitian ini bertujuan mengkaji tentang wastra yang berasal Desa Pringgasela,  Kabupaten Lombok Timur Provinsi Nusa tenggara Barat. Hal-hal yang dikaji  terkait tentang proses persiapan sebelum penenunan seperti mendesain motif, pencelupan benang, menenun benang hingga proses keberlanjutan (sustainability) yang dilakukan oleh para penenun di desa Pringgasela tersebut. Metodelogi penelitian ini menggunakan pendekatan kualitatif deskriptif. Metode pengumpulan data penelitian ini menggunakan wawancara, observasi dan dokumentasi. Teknik wawancara dan observasi ini dipilih untuk menggali informasi tentang proses pembuatan Tenun Sesek dan didukung dengan data dokumentasi berupa foto proses pembuatan Tenun Sesek dan proses pengambilan data yang dibutuhkan untuk menunjang penelitian ini. Salah satu hasil penelitian menunjukan bahwa disetiap proses pembuatan Tenun Sesek ini selalu ada proses daur ulang untuk meminimalkan limbah.
Kata kunci: Tenun Sesek, penenunan, Desa Pringgasela
Downloads
Download data is not yet available.
References

Darma, I Dewa Putu dan Priyadi, Arief, 2015. Keragaman tumbuhan sebagai pewarna pada kerajinan tenun suku Sasak: Studi kasus di Desa Sukarara, Kecamatan Jonggat, Kabupaten Lombok Tengah, Nusa Tenggara Barat. Pros Sem Nas Masy Biodiv Indon, Volume 1, nomor 4, Juli 2015. ISSN: 2407-8050.

Huda, Mi'rajul,2018. Perlindungan Hukum Terhadap Kerajinan Tenun Songket Di Desa Pringgasela Menurut Hukum Hak Kekayaan Intelektual Indonesia, FH Universitas Negeri Mataram.

Juniati, Ninik 2019, Slow - Fashion: Case Study of Tenun Sesek as local wisdom from Pringgasela, East Lombok, West Nusa Tenggara E-Proceeding International Conference on Informatics, Technology, and Engineering (Incite), Volume 2, ISSN: 2686-5955.

Kartika, Suwati, 2007. Ragam Kain Tradisional Indonesia Tenun Ikat, Jakarta: PT. Gramedia Pustaka Utama.

Mardiyanti dan Ismadi, 2016. Kain tenun Tradisional Dusun Sade, Rembitan, Pujut, Lombok Tengah, Nusa Tenggara Barat. FBS universitas Negeri Yogyakarta.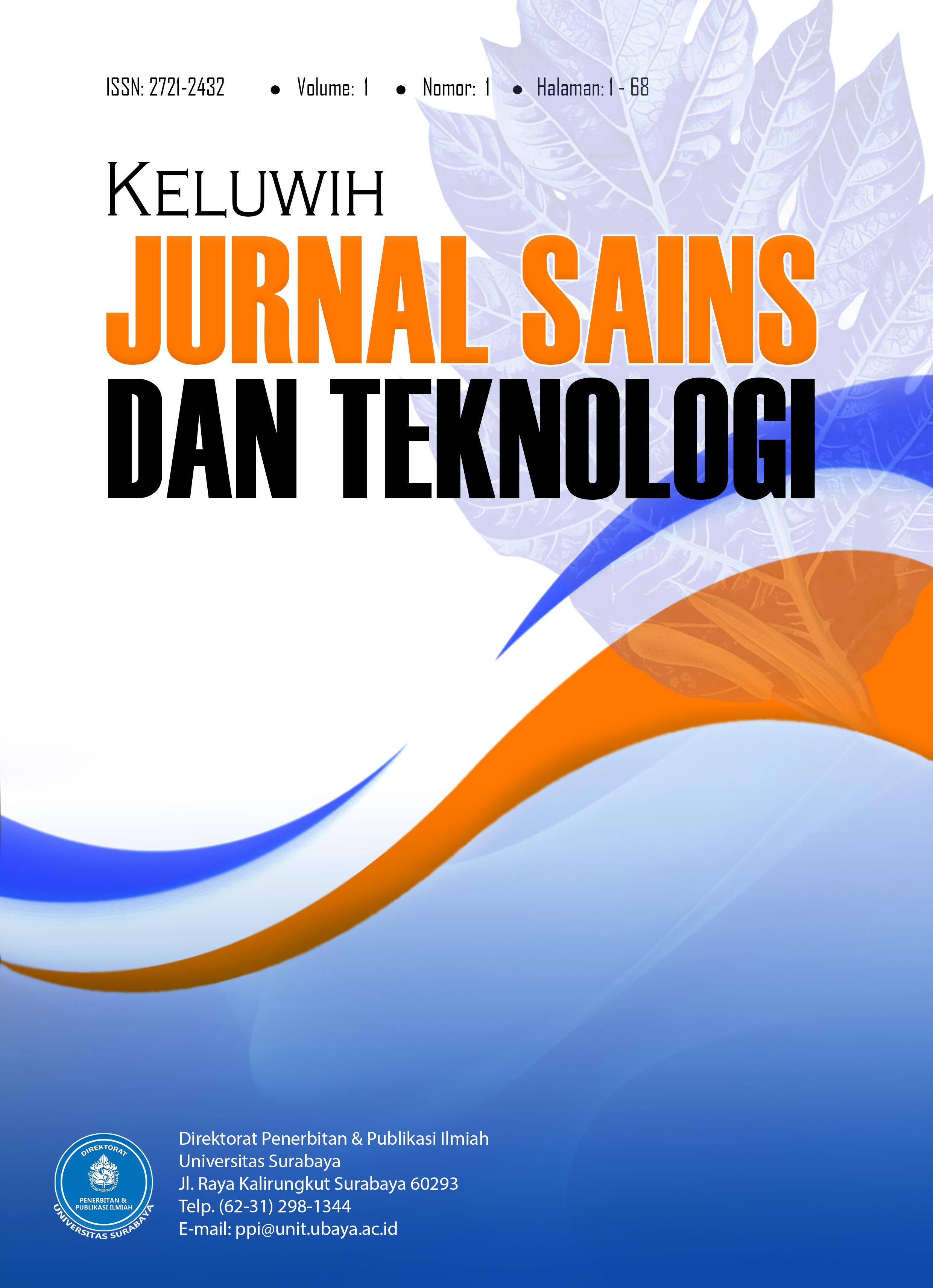 Section
Original Research
Articles published in Keluwih: Jurnal Sains dan Teknologi are licensed under a Creative Commons Attribution-ShareAlike 4.0 International license. You are free to copy, transform, or redistribute articles for any lawful purpose in any medium, provided you give appropriate credit to the original author(s) and the journal, link to the license, indicate if changes were made, and redistribute any derivative work under the same license.
Copyright on articles is retained by the respective author(s), without restrictions. A non-exclusive license is granted to Keluwih: Jurnal Sains dan Teknologi to publish the article and identify itself as its original publisher, along with the commercial right to include the article in a hardcopy issue for sale to libraries and individuals.
By publishing in Keluwih: Jurnal Sains dan Teknologi, authors grant any third party the right to use their article to the extent provided by the Creative Commons Attribution-ShareAlike 4.0 International license.