PENGARUH GOOD CORPORATE GOVERNANCE TERHADAP PEMILIHAN AUDITOR PADA PERUSAHAAN SEKTOR MANUFAKTUR YANG TERDAFTAR DI BEI PERIODE 2011-2013
Lydia Kartika Hadi

Jurusan Akuntansi Fakultas Bisnis dan Ekonomika Universitas Surabaya

Eko Pudjolaksono

Jurusan Akuntansi Fakultas Bisnis dan Ekonomika Universitas Surabaya

Rizky Eriandani

Jurusan Akuntansi Fakultas Bisnis dan Ekonomika Universitas Surabaya
Abstract
Penelitian ini bertujuan untuk menguji pengaruh mekanisme good corporate governance terhadap pemilihan auditor dengan analisis regresi logistik. Sampel yang digunakan dalam penelitian ini adalah perusahaan sektor manufaktur yang terdaftar di Bursa Efek Indonesia periode 2011-2013 dengan total 321 sampel. Auditor diklasifikasikan menjadi Big 4 (berkualitas tinggi) dan Non Big 4 (berkualitas rendah). Mekanisme good corporate governance yang dipergunakan sebagai variabel independen adalah persentase saham yang dimiliki pemegang saham terbesar, ukuran dewan komisaris, dan persentase komisaris independen. Hasil penelitian membuktikan bahwa persentase saham yang dimiliki pemegang saham terbesar dan ukuran dewan komisaris berpengaruh positif signifikan terhadap pemilihan auditor sedangkan persentase dewan komisaris tidak berpengaruh signifikan. Di Indonesia mayoritas pemegang saham terbesar adalah investor non-individu sehingga pengawasan manajemen dan pelaporan keuangan lebih profesional.  Dewan komisaris juga berperan dalam mengawasi manajemen dan memastikan penerapan good corporate governance di perusahaan.
Downloads
Download data is not yet available.
References
Binhadi, et al. 2006. Pedoman Umum Good Corporate Governance Indonesia. Jakarta: Komite Nasional Kebijakan Governance.

Carcello, J. V., D. R. Hermanson., T. L. Neal, dan R. A. Riley Jr. Board Characteristics and Audit Fees. Contemporary Accounting Research, 19, 365-384.

DeAngelo. 1981. Auditor Size and Audit Quality. Journal of Accounting and Economics 3, 183-199.

Hardiningsih, P. 2010. Pengaruh Independensi, Corporate Governance, dan Kualitas Audit terhadap Integritas Laporan Keuangan. Kajian Akuntansi, Vol 2: 61-76.

Lin, Z. J. dan Ming Liu. 2009. The Impact of Corporate Governance on Auditor Choice: Evidende from China. Journal of International Accounting, Auditing and Taxation, 18, 44-59.

Liu, Q. dan Zhou L. 2007. Corporate Governance and Earnings Management in the Chinese Listed Companies: A Tunneling Perspective. Journal of Corporate Finance 13, 881-906.

Murhadi, W. R. 2009. Studi Pengaruh Good Corporate Governance Terhadap Praktik Earnings Management pada Perusahaan Terdaftar di PT Bursa Efek Indonesia. Jurnal Manajemen dan Kewirausahaan, Vol 11: 1-10.

Pratiwi, Ria. 2014. Indonesia Bisa Capai Pertumbuhan Ekonomi 6% di Akhir 2014 (Online). http://swa.co.id/business-research/indonesia-bisa-capai-pertumbuhan-ekonomi-6-di-akhir-2014, diakses tanggal 1 Juni 2014

Sudsomboon, S. dan P. Ussahawanitchakit. 2009. Professional Audit Competencies P: The Effect on THAI'S CPAs Audit Quality, Reputation, and Success. Review of Business Research, Vol 9, No 3, 66-85.

Wardhani, Ratna. 2007. Mekanisme Corporate Governance dalam Perusahaan yang Mengalami Permasalahan Keuangan. Jurnal Akuntansi dan Keuangan Indonesia Vol 14, No 1, 95-114.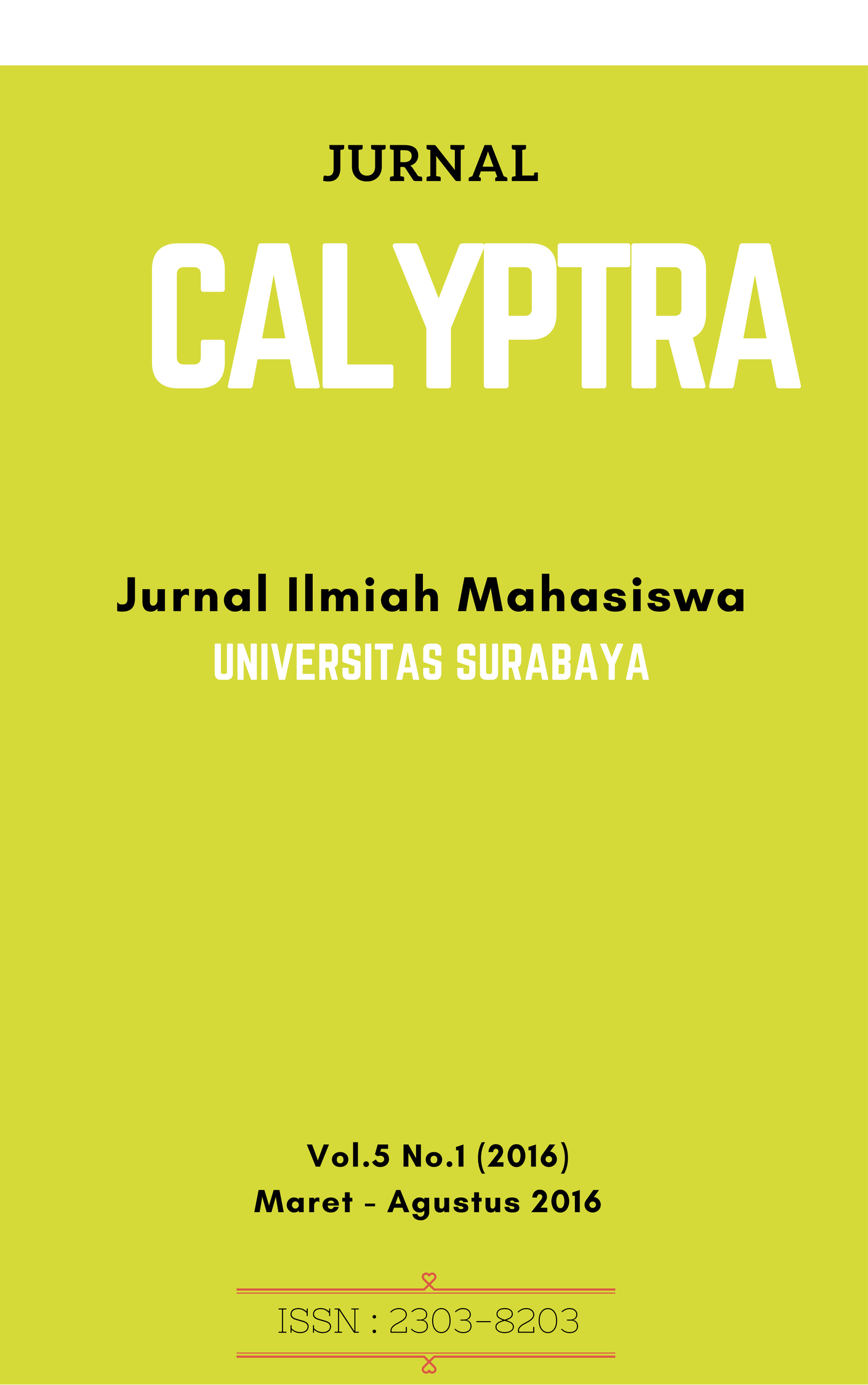 How to Cite
HADI, Lydia Kartika; PUDJOLAKSONO, Eko; ERIANDANI, Rizky. PENGARUH GOOD CORPORATE GOVERNANCE TERHADAP PEMILIHAN AUDITOR PADA PERUSAHAAN SEKTOR MANUFAKTUR YANG TERDAFTAR DI BEI PERIODE 2011-2013.
CALYPTRA
, [S.l.], v. 5, n. 1, p. Hal. 1 - 11, mar. 2016. ISSN 2302-8203. Available at: <
http://journal.ubaya.ac.id/index.php/jimus/article/view/2543
>. Date accessed: 17 feb. 2020.
Section
Bidang Akuntansi (AK)