KEPEMIMPINAN DALAM PENERAPAN SISTEM PENGENDALIAN MANAJEMEN UNTUK MENINGKATKAN KINERJA ATLET DI PB SURYANAGA
Michael Agusthio

Jurusan Akuntansi Fakultas Bisnis dan Ekonomika Universitas Surabaya

Sujoko Efferin

Jurusan Akuntansi Fakultas Bisnis dan Ekonomika Universitas Surabaya
Abstract
Studi ini bertujuan untuk memperoleh pemahaman yang lebih baik mengenai peranan gaya kepemimpinan pelatih dan sistem pengendalian manajemen yang dapat diterapkan dalam klub olahraga. Penelitian menggunakan objek klub PB Suryanaga yang berlokasi di Surabaya, dimana klub ini termasuk dalam 5 klub terbesar di Indonesia. Penelitian ini meneliti gaya kepemimpinan dari pelatih team junior Suryanaga dan sistem pengendalian yang telah ditetapkannya. Penelitian ini menemukan bahwa antara gaya kepemimpinan dan sistem pengendalian manajemen memiliki keterkaitan dengan meningkatkan kinerja dari atlet.
Downloads
Download data is not yet available.
References
Anthony,R.N.,and Govindarajan,2001. Management Control System.10th edition.Chicago :Irwin Mc. Graw- Hill Inc

Chen, Jui-Chen dan Colin Siverthorne,2005. Leadership Effectiveness, Leadership Style and Employee Readiness.Leadership and Organization Development Journal vol 26 No : 280 – 288

Daft, Richard L.2005. The Leadership Experience.3rd edition.Canada : South-Western, Thomson Co.

Fullerton, Sam, 2007, Sport Marketing, by McGraw-Hill/Irwin Companies, Inc., New York

Goetsch, David L. 2005 Effective Leadership. Upper Saddle River, NewJersey : Prentice-Hall.

Kaser, Kenneth dan John R.Brooks,Jr. 2005. Sports and Entertainment Management.South-Western, Thomson Co.

Merchant, Kenneth A., Wim A. Van der Stede. 2003. Management Control System. London : Prentice Hall.

Yorks, Lyle. 1994. Human Resources and Personnel in Sports Management. Journal of Sports Management. Vol. 26 No : 1 : p.16

Yukl, Gary. 2006. Leadership in Organizations. 6th edition. Upper SadleRiver, New Jersey, U.S.A : Prentice-Hall,Inc

Thoha, M. (1996).PerilakuOrgnisasi. CetakanKedelapan. Jakarta : PT Raja GrafindoPersada.

Franken,E.R. (1982). Human Motivation. California: Woodsworth,Inc.

Gunarsa, S.D. (1995). Psikologi Olahraga.Jakarta:BPK GunungMulia.

Arisanto, S. (2006). Pola Dasar Pembinaan Bulutangkis Djarum.

Harsono. (1997). Prinsip – Prinsip Latihan dan Latihan Kondisi Fisik.

http://dwiwuryanti.blogspot.com/2012/07/
sportpreneurship-network-sport- industry.html

http://id.wikipedia.org/wiki/Daftar_
kejuaraan_bulu_tangkis_internasional

http://yonmoeis.wordpress.com/2009/01/11/
taufik-hidayat-cipayung-dan-kontroversi-tempe-bacem/

http://psikologiolahraga.wordpress.com/
2011/01/18/
apa-pentingnya-relasi- positif-pelatih-pemain/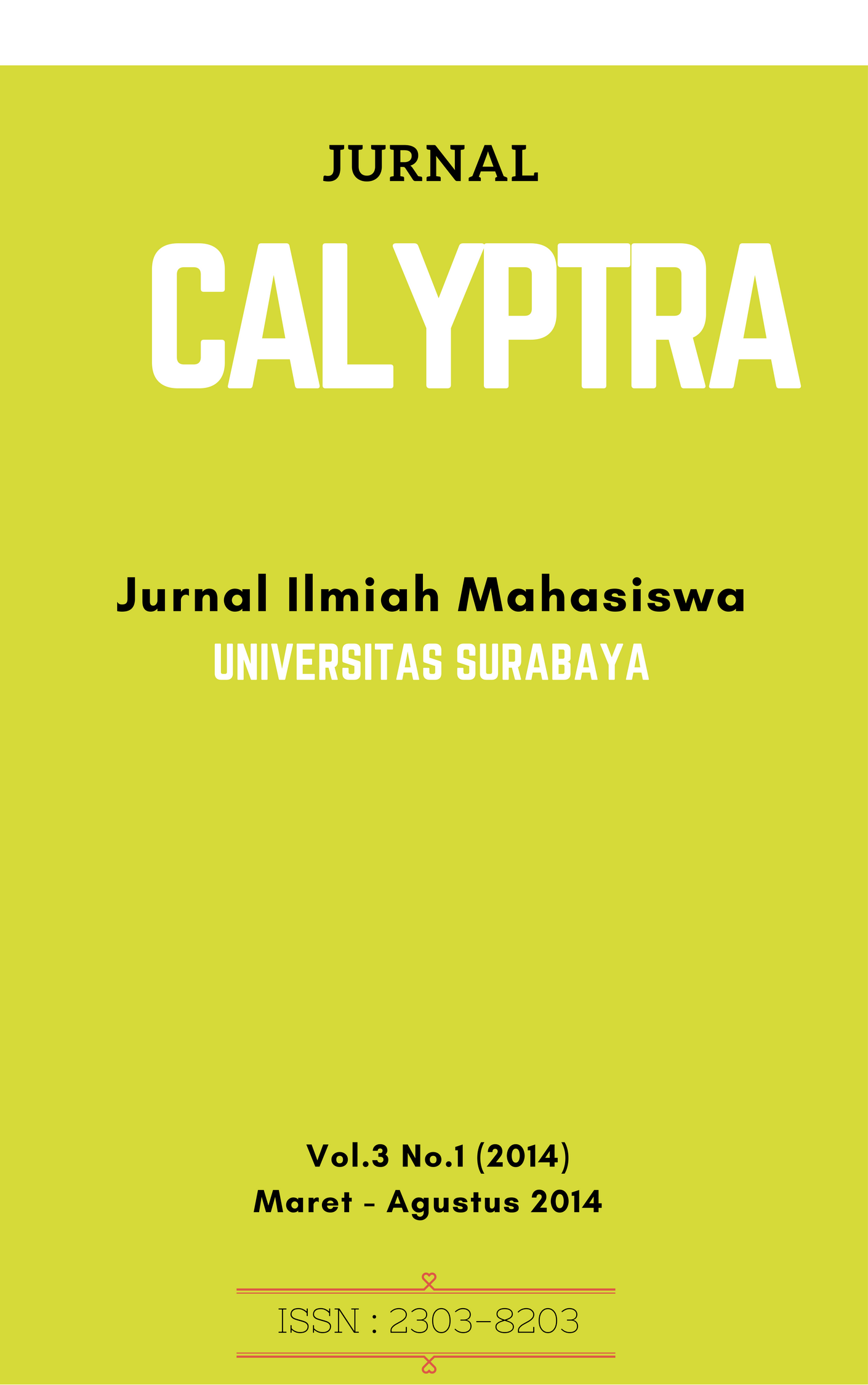 How to Cite
AGUSTHIO, Michael; EFFERIN, Sujoko. KEPEMIMPINAN DALAM PENERAPAN SISTEM PENGENDALIAN MANAJEMEN UNTUK MENINGKATKAN KINERJA ATLET DI PB SURYANAGA.
CALYPTRA
, [S.l.], v. 3, n. 1, p. Hal. 1 - 16, mar. 2014. ISSN 2302-8203. Available at: <
http://journal.ubaya.ac.id/index.php/jimus/article/view/841
>. Date accessed: 25 sep. 2018.
Section
Bidang Akuntansi (AK)