UJI AKTIVITAS ANTIBAKTERI KOMBINASI EKSTRAK ETANOL 70 % KELOPAK BUNGA ROSELLA HIBISCUS SABDARIFFA LINN. DAN DAUN TEH THEA SINENSIS LINN. TERHADAP STAPHYLOCOCCUS AUREUS ATCC 25922+
Novandrie Zakharia Daud

Fakultas Farmasi Universitas Surabaya

Mariana Wahjudi

Fakultas Teknobiologi Universitas Surabaya
Abstract
Kelopak bunga rosella Hibiscus sabdariffa Linn. telah diteliti memiliki khasiat sebagai antibakteri terhadap Staphylococcus aureus ATCC 25922. Daun teh Thea sinensis Linn. Diketahui memiliki efek antibakteri yang sama. Kandungan Flavonoid serta quercetin dan kaempferol pada rosella dan teh ini yang memiliki efek antibakteri. Hingga saat ini belum diketahui efek antibakteri kombinasi bila kedua ekstrak tanaman tersebut dicampur. Penelitian ini dilakukan untuk melihat aktivitas antibakteri kombinasi ekstrak etanol 70% kelopak bunga rosella Hibiscus sabdariffa Linn. dan daun teh Thea sinensis Linn. Terhadap pertumbuhan Staphylococcus aureus ATCC 25922. Uji daya hambat pada penelitian ini menggunakan metode difusi agar dengan cylinder cup. Dari penelitian diperoleh hasil bahwa kelopak bunga rosella Hibiscus sabdariffa Linn. dan daun teh Thea sinensis Linn. dapat menghambat Staphylococcus aureus ATCC 25922. Diameter daerah hambatan ekstrak tunggal akibat pemberian ekstrak etanol kelopak bunga rosella Hibiscus sabdariffa Linn. Pada berbagai kadar menunjukkan perbedaan bermakna sedangkan pemberian berbagai kadar ekstrak etanol daun teh Thea sinensis Linn. tidak menunjukkan perbedaan bermakna. Kombinasi kedua ekstrak etanol tersebut tidak menunjukkan perbedaan efek anti mikrobanya terhadap efek tunggalnya.
Downloads
Download data is not yet available.
References
Aarti Katoch, Bhanu Batta, Amit Kumar, P.C. Sharma, 2013, Screening of Murraya koenigii (Curry) and Camellia sinensis (Tea) leaves for antimicrobial activity against strains of Staphylococcus aureus, Pseudomonas aeruginosa an Candida species and their phytochemical analysis. International Journal of Pharmaceutical Sciences and Research. 4(2): 862-868

Al-Hashimi A.G., 2012,Antioxidant and antibacterial activities of Hibiscus sabdariffa L. extracts. Afr J Food Sci.6: 506-511

Bailey L.H., 1963, Standard Cyclopedia of Holticulture, The Mcmillan company, New York, 2-3.

Bennett, C.J., Caldwell, S.T., McPhail, D.B., et al, 2004, Potential therapeutics antioxidant that combine the radical scavenging ability of myricetin and the lipophilic chain of vitamin E to effectively inhibit microsomal lipid peroxidation. Bioorg. Med. Chem.12: 2079-2098

Calderón-Montaño,J.M., E., Burgos-Morón, C. Pérez-Guerrero and M. López-Lázar, 2011, A Review on the Dietary Flavonoid Kaempferol. Bentham Science Publishers Ltd. 11: 298-344

Departemen Kesehatan RI, 1986, Sediaan Galenik, Jakarta, 1-31.

Departemen Kesehatan RI, 1995, Farmakope Indonesia, edisi IV, Jakarta, 189.

Departemen Kesehatan RI, 2000, Parameter Standar Umum Ekstrak Tumbuhan Obat, Direktorat Jendral Pengawasan Obat dan Makanan-Direktorat Pengawasan Obat Tradisisonal, Jakarta, 1-31.

Gradisar H, Pristovsek P, Plaper A, Jerala R, 2007,Green tea catechins inhibit bacterial DNA gyrase by interaction with its ATP binding site. J Med Chem.50(2):264–271

Hartoyo, Arif, 2003,Teh dan Khasiatnya Bagi Kesehatan : Sebuah Tinjauan Ilmiah, Kanisius, Yogyakarta, 34-42.

Hatil H.E., Moneer F.M., 2006, Antibacterial activities of Hibiscus sabdariffa, Acacia seyal var. seyal, and Sphaeranthus suaveolens var. Suaveolens against upper respiratory tracts pathogens. Sudan JMS.1(2): 121-126

Jawetz E., Melenick J.L., Adelberg E.A., 2001, Mikrobiologi Kedokteran, edisi 1, Salemba Medika, Jakarta, 317-325.

Lide, D.R., ed. 1997,CRC Handbook of Chemistry and Physics, 78th Ed., Boca Raton, CRC Press, Florida, 3-78.

Magambo, M.J.S. & Cannell, M.G.R., 1981,Dry matter production and partitioning in relation to yield of tea. Experimental Agriculture. 17: 33-38

Maryani H, Kristiana I., 2005, Khasiat dan Manfaat Rosela, Agromedia Pustaka, Jakarta, 3-37.

Merck, 2005, Handbook of Culture Media, FrankFurter strabe 250 D-61001, Darmstand, 42, 47, 103, 104, 122, 151, 152, 154, 155, 164-166, 370-371, 387, 502.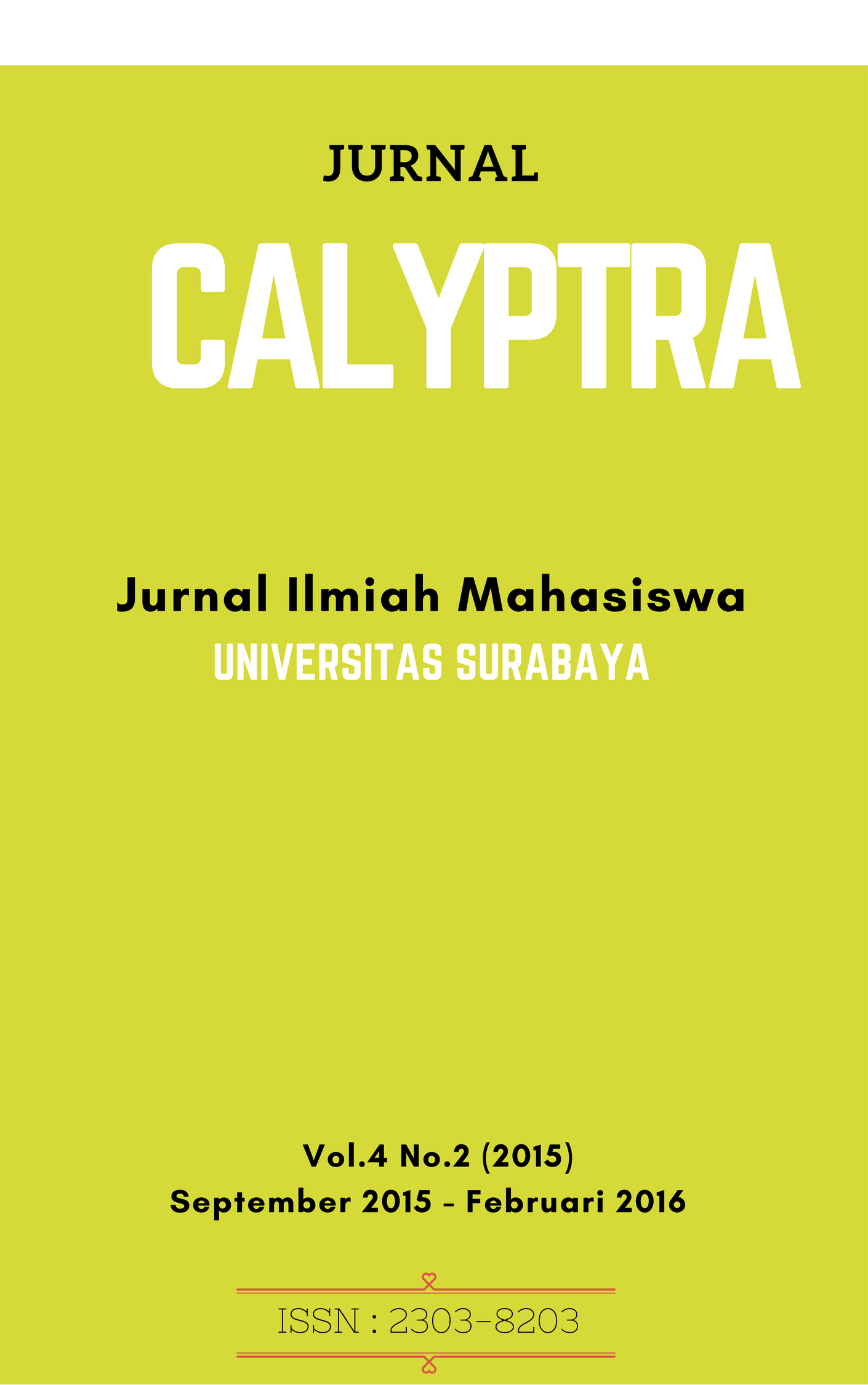 How to Cite
DAUD, Novandrie Zakharia; WAHJUDI, Mariana. UJI AKTIVITAS ANTIBAKTERI KOMBINASI EKSTRAK ETANOL 70 % KELOPAK BUNGA ROSELLA HIBISCUS SABDARIFFA LINN. DAN DAUN TEH THEA SINENSIS LINN. TERHADAP STAPHYLOCOCCUS AUREUS ATCC 25922+.
CALYPTRA
, [S.l.], v. 4, n. 2, p. Hal. 1 - 15, sep. 2015. ISSN 2302-8203. Available at: <
https://journal.ubaya.ac.id/index.php/jimus/article/view/2095
>. Date accessed: 31 oct. 2020.
Section
Bidang Farmasi (F)
Articles published in CALYPTRA are licensed under a Creative Commons Attribution-ShareAlike 4.0 International license. You are free to copy, transform, or redistribute articles for any lawful purpose in any medium, provided you give appropriate credit to the original author(s) and the journal, link to the license, indicate if changes were made, and redistribute any derivative work under the same license.
Copyright on articles is retained by the respective author(s), without restrictions. A non-exclusive license is granted to CALYPTRA to publish the article and identify itself as its original publisher, along with the commercial right to include the article in a hardcopy issue for sale to libraries and individuals.
By publishing in CALYPTRA, authors grant any third party the right to use their article to the extent provided by the Creative Commons Attribution-ShareAlike 4.0 International license.