MODERASI JENIS PEMBELI TERHADAP PENGARUH TAKTIK PENJUALAN PADA MANIFEST INFLUENCE PRODUK AUDIO MOBIL DI SURABAYA
Willy Ananto Kwari

Jurusan Magister Manajemen Fakultas Bisnis dan Ekonomika Universitas Surabaya

Dudi Anandya

Jurusan Magister Manajemen Fakultas Bisnis dan Ekonomika Universitas Surabaya
Abstract
Seiring dengan perkembangan zaman saat ini, pembeli dihadapkan dengan berbagai macam pilihan produk yang dapat dipilih dengan mudah. Semakin ketat dan kuatnya persaingan itu membuat para penjual harus sepandai mungkin dalam menawarkan produk atau jasa yang ada. Penjual yang menjual barang dengan karakteristik khusus diharuskan paham akan tuntutan yang diinginkan oleh pembeli sehingga nantinya dapat terus eksis dan bisnisnya dapat berumur panjang. Dalam penelitian yang telah dilakukan oleh peneliti lainnya, didapatkan bahwa terdapat beberapa variabel dari taktik penjualan. Variabel-variabel yang berkaitan dengan taktik penjualan tersebut antara lain pertukaran informasi, rekomendasi, ancaman, janji, rayuan, dan seruan inspiratif. Sedangkan berasarkan penelitian yang dilakukan oleh peneliti sebelumnya juga mengindikasikan bahwa terdapat tiga tipe dari karakteristik pembeli yang ada saat ini. Tiga tipe karakteristik dari pembeli tersebut adalah pembeli dengan orientasi tugas, pembeli dengan orientasi pribadi, dan pembeli dengan orientasi interaksi. Dalam penelitian itu memperlihatkan bahwa pembeli dengan tipe orientasi tugas lebih cocok apabila menggunakan taktik penjualan pertukaran informasi dan rekomendasi. Pembeli dengan tipe orientasi pribadi lebih cocok menggunakan taktik penjualan ancaman, janji, atau rayuan. Sedangkan pembeli dengan orientasi interaksi lebih cocok menggunakan taktik penjualan berupa rayuan dan seruan inspiratif. Untuk membuktikan penelitian yang dilakukan oleh peneliti sebelumnya, maka peneliti saat ini menggunakan topik inti audio mobil sebagai objek penelitian. Peneliti melakukan penelitian dua sisi yaitu penjual dan pembeli produk audio mobil. Penelitian yang ada dilakukan perhitungan dengan metode regresi linier berganda, dan uji MANOVA untuk mengetahui seberapa besar keterkaitan atau hubungan antar variabel taktik penjualan dengan orientasi dari pembeli. peneliti melakukan pengambilan sampel dalam bentuk kuesioner yang disebar pada masing-masing 90 responden penjual dan juga pembeli produk audio mobil. Responden yang ada ini harus saling mengenal karakteristik antara satu dengan yang lainnya. Dari hasil perhitungan yang ada didapatkan bahwa terdapat beberapa hipotesa peneliti yang sama dengan peneliti sebelumnya. Hipotesa tersebut antara lain dari segi taktik penjualan berupa ancaman terhadap pembeli dengan orientasi pribadi, rayuan terhadap pembeli dengan orientasi pribadi, rayuan terhadap orientasi interaksi, dan taktik ancaman yang digunakan oleh penjual dalam menawarkan produknya. Selain kesamaan tentunya juga terdapat sedikit perbedaan hasil hipotesa. Hasil analisis hipotesa berdasarkan perhitungan ternyata mengungkapkan bahwa taktik penjualan saja tidak cukup dalam membuat manifest influence. Terdapat hal-hal lain pula yang menyebabkan manifest influence dari pembeli sehingga dapat memutuskan membeli produk audio mobil. 
Downloads
Download data is not yet available.
References
Adaval, Rashmi. 2001. "Sometimes It Feels Right: The Differential Weighting of Affect Consistent and Affect-Inconsistent Product Information," Journal of Consumer Research, 28 (June), 1–17

Bass, Bernard M. 1960. Leadership, Psychology, and Organizational Behavior. New York: Harper Brothers

Bhatnagar, Deepti. 1993. "Evaluation of Managerial Influence Tactics: A Study of Indian Bank Managers," Joumal of Managerial Psychology, 8 (1), 3-9

Boyle, Brett F. and F. Robert Dwyer. 1995. "Power, Bureaucracy, Influence, and Performance," Journal of Business Research, 32 (3), 189–201

BPS. 2014. Perkembangan Jumlah Kendaraan Bermotor Menurut Jenis Tahun 1987 – 2012. http://www.bps.go.id/tab_sub/view.php?tabel=1&id_subyek=17&notab=12 (diakses 8 Juli 2014)

Brown, James R., Robert F. Lusch, and Carolyn Y. Nicholson. 1995. "Power and Relationship Commitment: Their Impact on Marketing Channel Member Performance," Journal of Retailing, 71 (4), 363–92

Budi, Triton Prawira. 2007. SPSS 13.0 Terapan Riset Statistik Parametrik. Yogyakarta: CV. Andi Offset

Driskell, James E., Beckett Olmstead, and Eduardo Salas. 1993. 'Task Cues, Dominance Cues, and Influence in Task Groups," Joumal of Applied Psychology, 78 (1), 51-60

Duhan, Dale F., Scott D. Johnson, James B. Wilcox, Gilbert D. Harrell. 1997. Influences on consumer use of word-of-mouth recommendation sources. J. Acad. MarketingSci. 25(4) 283–295

Fitzsimons, Gavan J. and Donald R. Lehmann. 2004. "Reactance to Recommendations: When Unsolicited Advice Yields Contrary Responses," Marketing Science, 23 (Winter), 82–94

Forgas, Joseph P. 1995. "Mood and Judgment: The Affective Infusion Model (AIM)," Psychological Bulletin, 117 (1), 39–66

Frazier, Gary L. and John Summers. 1984. "The Use of Influence Strategies in Interfirm Relationships in Industrial Channels," Journal of Marketing, 48 (Summer), 43–55

Frazier, Gary and Raymond Rody. 1991. "The Use of Influence Strategies in Interfirm Relationships in Industrial Product Channels," Journal of Marketing, 55 (January), 52-69

Kelman, Herbert C. 1958. "Compliance, Identification, and Internalization: Three Processes of Attitude Change," Journal of Conflict Resolution, 2 (1), 51–60

Kipnis, David and Stuart M. Schmidt. 1988. "Upward-Influence Styles: Relationship with Performance Evaluations, Salary, and Stress," Administrative Science Quarterly, 33 (December), 528–42

Kotler, Philip. 2000. Marketing Management The Millenium 1st Edition. New Jersey: Prentice Hall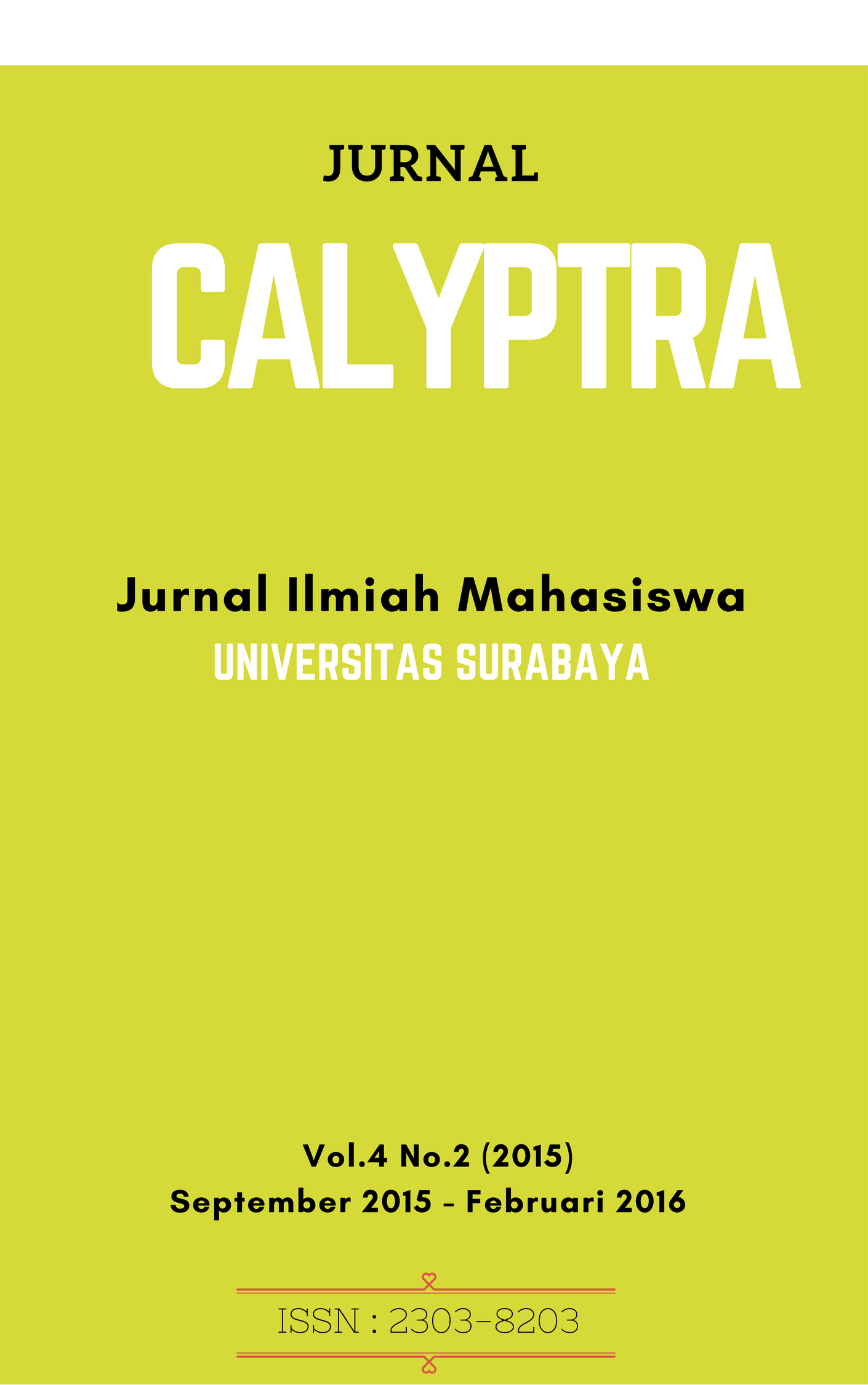 How to Cite
KWARI, Willy Ananto; ANANDYA, Dudi. MODERASI JENIS PEMBELI TERHADAP PENGARUH TAKTIK PENJUALAN PADA MANIFEST INFLUENCE PRODUK AUDIO MOBIL DI SURABAYA.
CALYPTRA
, [S.l.], v. 4, n. 2, p. Hal. 1 - 24, mar. 2018. ISSN 2302-8203. Available at: <
https://journal.ubaya.ac.id/index.php/jimus/article/view/2169
>. Date accessed: 31 oct. 2020.
Section
Bidang Magister Manajemen (MM)
Articles published in CALYPTRA are licensed under a Creative Commons Attribution-ShareAlike 4.0 International license. You are free to copy, transform, or redistribute articles for any lawful purpose in any medium, provided you give appropriate credit to the original author(s) and the journal, link to the license, indicate if changes were made, and redistribute any derivative work under the same license.
Copyright on articles is retained by the respective author(s), without restrictions. A non-exclusive license is granted to CALYPTRA to publish the article and identify itself as its original publisher, along with the commercial right to include the article in a hardcopy issue for sale to libraries and individuals.
By publishing in CALYPTRA, authors grant any third party the right to use their article to the extent provided by the Creative Commons Attribution-ShareAlike 4.0 International license.