INVESTMENT PERFORMANCE AND DISCLOSURE QUALITY OF AUSTRALIAN SUPERANNUATION FUNDS
Lita Christy Santoso

Professional Accounting Faculty of Business and Economics Universitas Surabaya
Abstract
Sebagaimana cadangan pensiun publik hanya setara dengan sekitar lima persen dari Produk Domestik Bruto (PDB), sementara aset dana pensiun sekitar total PDB, dana pensiun memainkan peran penting dalam memastikan keberlanjutan sistem pendapatan pensiun. Sebagaimana aset dana pensiun telah berkembang cepat selama 20 tahun terakhir, tingkat pengembalian investasi yang stabil dan pengungkapan kegiatan wali menjadi sangat penting. Dalam konteks ini, penelitian ini menguji apakah ada hubungan antara tingkat pengembalian investasi (ROR) dan pengungkapan sukarela yang dilakukan oleh dana pensiun Australia.   Penelitian ini menemukan sejumlah temuan. Pertama, dana keseluruhan sampel menerima nilai rendah untuk praktik pengungkapan di bidang kegiatan pemerintah dan operasi, seperti struktur dewan, informasi direksi, dana cadangan, biaya operasional, biaya investasi, dan kegiatan investasi yang diwakili oleh BSI, DDI, FRDI, OFDI, IFDI, dan IDI masing-masing. Kedua, BSI dan DDI tidak memiliki hubungan dengan ROR. Ketiga, FRDI dan OFDI memiliki hubungan negatif dengan ROR, sementara IFDI dan IDI memiliki hubungan positif dengan ROR. Akhirnya, penelitian ini memberikan kontribusi pada literatur, regulasi, dan praktek dalam pelaporan dan pengungkapan dana pensiun.
Downloads
Download data is not yet available.
References
AASB 2009. Superannuation Plans and Approved Deposit Funds. AASB Exposure Draft, Vol. 179.

ARNOLD, B., BATEMAN, H., BUCKLEY, R., DONALD, S. & LIU, K. 2013. The Implications of Complexity for Systemic Risk in The Superannuation System. Center for Law, Markets, and Regulation Research Paper Series.

ARSLAN, O. & KARAN, M. B. 2009. Credit Risks and Internationalization of SMEs. Journal of Business Economics and Management Vol. 10, pp. 361-368.

AUSTRALIANSUPER PTY LTD 2013. AustralianSuper Annual Report 2013: Investing For Your Future.

BALL, R., JAYARAMAN, S. & SHIVAKUMAR, L. 2012. Audited Financial Reporting and Voluntary Disclosure as Complements: A Test of The Confirmation Hypothesis. Journal of Accounting and Economics, Vol. 53, pp. 136-166.

BATEMAN, H. 2001. Disclosure of Superannuation Fees and Charges. Discussion Paper Centre for Pensions and Superannuation.

BENSON, K. L., HUTCHINSON, M. & SRIRAM, A. 2011. Governance in the Australian Superannuation Industry. Journal of Business Ethics, Vol. 99, pp. 183-200.

BIRD, R. & GRAY, J. 2011. A Brief Critical Review of Australia's Retirement Savings System. The Pension Crisis - Investment Management Consultants Association.

CHAN, Y. H. 2004. Biostatistics 201: Linear Regression Analysis. Singapore Medical Journal, Vol. 45, pp. 55.

CLARKSON, P. M., OVERELL, M. B. & CHAPPLE, L. 2011. Environmental Reporting and its Relation to Corporate Environmental Performance. ABACUS, Vol. 47.

CLEMENTS, A., DALE, G. & DREW, M. E. 2006. Australia's Retail Superannuation Fund Industry: Structure, Conduct, and Performance. Accounting, Accountability, and Performance, Vol. 12.

COAKES, S. J., STEED, L. & ONG, C. 2010. SPSS Version 17.0 For Windows: Analysis Without Anguish, John Wiley & Sons Australia, Ltd.

CUMMINGS, D. J. R. 2012. Effect of Fund Size on the Performance of Australian Superannuation Funds. APRA.

DREW, M. E. & STANFORD, J. D. 2003. Principal and Agent Problems in Superannuation Funds. Queensland University of Technology Discussion Papers in Economics, Finance, and International Competitiveness, Vol. 142.

GALLERY, G. & GALLERY, N. 2006. Accounting Impediments to Better Superannuation Fund Governance. Accounting, Accountability, and Performance, Vol. 12, pp. 33-57.

HARTGE-HAZELMAN, B. 2011. Disclosure is Not a Dirty World. The Weekend Australian Financial Review, 20-21 August.

HIRTLE, B. 2007. Public Disclosure, Risk, and Performance at Bank Holding Companies. Fund Reserve Bank of New York Staff Reports.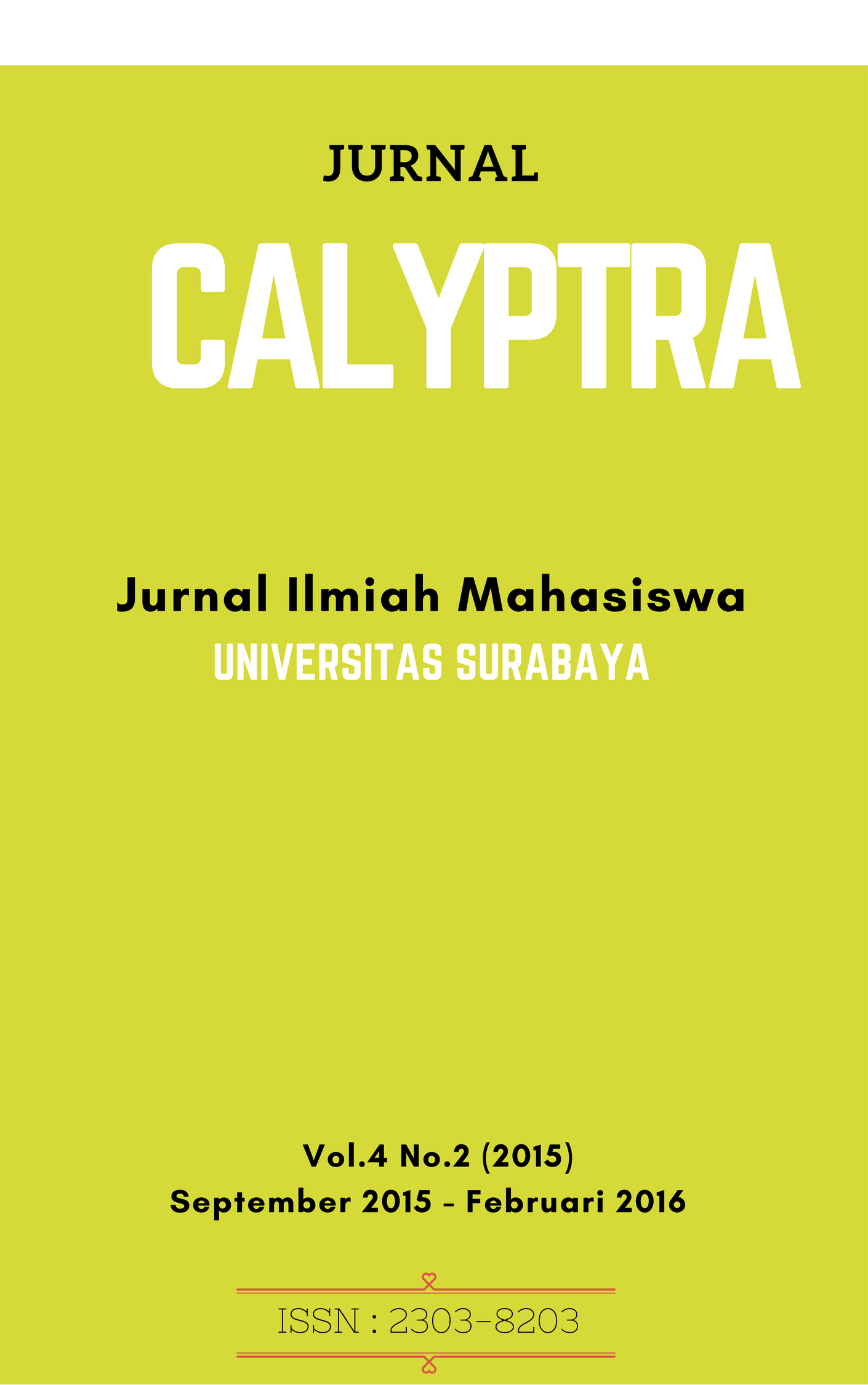 Section
Bidang Profesi Akuntansi (PA)
Articles published in CALYPTRA are licensed under a Creative Commons Attribution-ShareAlike 4.0 International license. You are free to copy, transform, or redistribute articles for any lawful purpose in any medium, provided you give appropriate credit to the original author(s) and the journal, link to the license, indicate if changes were made, and redistribute any derivative work under the same license.
Copyright on articles is retained by the respective author(s), without restrictions. A non-exclusive license is granted to CALYPTRA to publish the article and identify itself as its original publisher, along with the commercial right to include the article in a hardcopy issue for sale to libraries and individuals.
By publishing in CALYPTRA, authors grant any third party the right to use their article to the extent provided by the Creative Commons Attribution-ShareAlike 4.0 International license.