PENGARUH GROUP THERAPY TERHADAP PSYCHOLOGICAL WELL-BEING REMAJA PANTI ASUHAN
Fenny Yonatan

Program Magister Psikologi Profesi Fakultas Psikologi Universitas Surabaya

Hartanti Hartanti

Program Magister Psikologi Profesi Fakultas Psikologi Universitas Surabaya

Nanik Nanik

Program Magister Psikologi Profesi Fakultas Psikologi Universitas Surabaya
Abstract
Penelitian ini bertujuan untuk melihat pengaruh group therapy dalam meningkatkan PWB. Partisipan dalam penelitian ini adalah enam orang remaja yang tinggal di panti asuhan "X" (usia 12-18 tahun), mempunyai PWB yang tidak optimal, dan bersedia mengikuti group therapy. Pertemuan group therapy diadakan selama lima pertemuan (minimal satu pertemuan dalam seminggu). Penelitian ini merupakan penelitian kuantitatif eksperimental dengan menggunakan desain penelitian one group pretest-posttest design. Teknik pengukurannya menggunakan angket tertutup PWB 84 aitem yang dimodifikasi dari Christie (2008) dan angket terbuka dan tertutup. Kedua alat ukur ini berdasar pada teori PWB Ryff (1989). Hasil analisis statistik angket tertutup PWB (84 aitem) menunjukkan bahwa tidak ada perbedaan PWB yang signifikan (0.293; p>0.05). Akan tetapi, dari hasil analisis statistik angket tertutup dan terbuka menunjukkan adanya perbedaan PWB yang signifikan (0.048; p<0.05). Hal ini dikarenakan angket tertutup PWB (84 aitem) mengandung aspek kognitif, afektif, dan perilaku (pengalaman), sedangkan angket tertutup dan terbuka hanya mengandung aspek kognitif dan afektif. Berdasarkan hasil angket tertutup dan terbuka diketahui bahwa pemberian intervensi group therapy dapat meningkatkan dimensi PWB penguasaan lingkungan (0.039), tujuan hidup (0.027), dan pertumbuhan pribadi (0.042) secara signifikan. Motivasi dan keseriusan dalam mengikuti group therapy merupakan faktor penting proses pembelajaran dalam kelompok.
Downloads
Download data is not yet available.
References
Allen, K. N., & Friedman, B. D. (2010). Affective learning: A taxonomy for teaching social work values. Journal of Social Work Values and Ethics, 7, 2.

Arnett, J. J., & Avioli, P. S. (2000). The social support function of siblings in later life. The American Behavioral Scientist. 33, 45-57.

Brabender, V. A., Fallon, A. E., & Smolar, A. I. (2004). Essentials of group therapy. United States: John Wiley & Sons, Inc.

Christie, Y. (2008). Perbedaan psychological well-being pada wanita lajang ditinjau dari tipe wanita lajang (skripsi tidak dipublikasikan). Universitas Surabaya, Surabaya.

Mussen, P.H., Conger, J.J., Kagan, J., Huston, A.C. (1994). Perkembangan dan Kepribadian Anak (Ed.6). Jakarta: Arcan.

Neinstein, L. S. (2002). Adolescent health care: A practical guide (3rd ed.). Baltimore: Williams & Wilkins

Papalia, D.E., Olds, S.W., Feldman, R.D. (2006). A Child's World: Infancy through Adolescence (10th ed). New York: McGraw-Hill.

Rice, F.P., Dolgin, K.G. (2008). The Adolescent: Development, relationships, and culture (12th Ed.). United States: Pearson International Edition.

Ryan, R. M., & Deci, E. L. (2001). On happiness and human potentials: A Review of Reseacrh on Hedonic and Eudaimonic Well-Being. Annu. Rev. Psychol., 52, 141–66.

Ryff, C. (1989). Happiness is everything, or is it? Explorations on the meaning of psychological well-being. Journal of Personality and Social Psychology, 57(6), 1069-1081.

Ryff, C., & Keyes, C. (1995). The structure of psychological well-being revisited. Journal of Personality and Social Psychology, 69(4), 719-727.

Schneider, B., Atteberry, A., & Owens, A. (2005). Family matters: Family structure and child outcomes. Birmingham: Alabama Policy Institute.

Teja, M. (2009). Pelindungan terhadap anak terlantar di panti asuhan. Info Singkat, Vol.VI, No.05, 9-12.

Yalom, I. D., & Leszcz, M. (2005). The theory and practice of group psychotherapy (5th Ed). New York: A Member of the Perseus Books Group.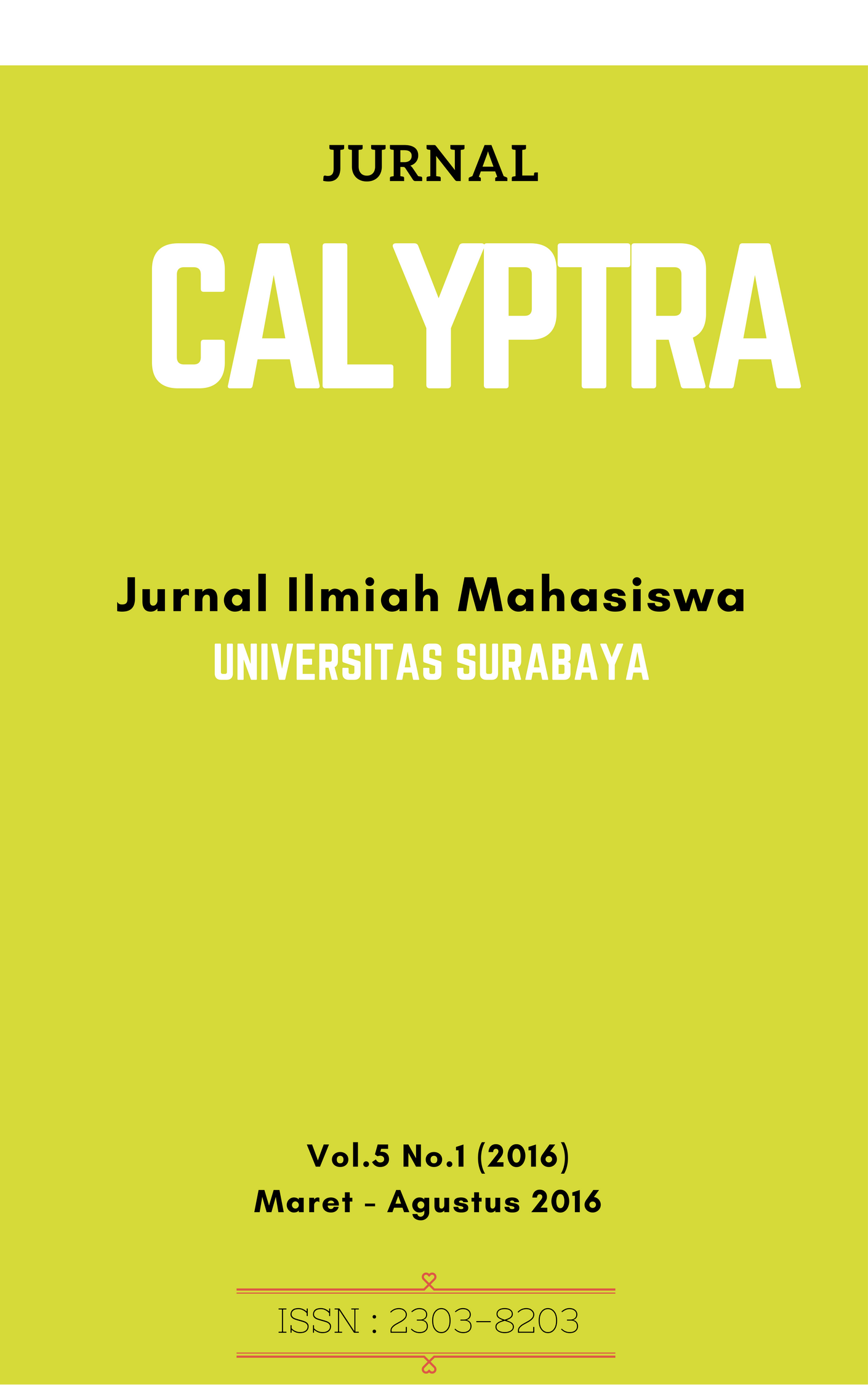 How to Cite
YONATAN, Fenny; HARTANTI, Hartanti; NANIK, Nanik. PENGARUH GROUP THERAPY TERHADAP PSYCHOLOGICAL WELL-BEING REMAJA PANTI ASUHAN.
CALYPTRA
, [S.l.], v. 5, n. 1, p. Hal. 1 - 12, mar. 2016. ISSN 2302-8203. Available at: <
https://journal.ubaya.ac.id/index.php/jimus/article/view/2791
>. Date accessed: 03 july 2020.
Section
Bidang Magister Psikologi (MPSI)