PENERAPAN FORMAL CONTROL DALAM MENDUKUNG CUSTOMER RELATIONSHIP MANAGEMENT PADA BCA KCU SITUBONDO
Vanessa Nathasia Sutijono

Jurusan Akuntansi Fakultas Bisnis dan Ekonomika Universitas Surabaya

Wiyono Pontjoharyo

Jurusan Akuntansi Fakultas Bisnis dan Ekonomika Universitas Surabaya
Abstract
Persaingan bisnis saat ini semakin ketat, banyak tuntutan masyarakat yang mengharuskan perusahaan untuk membangun strategi baru agar terus dapat bertahan dan berkembang. Salah satu strategi yang harus di inovasi adalah bagaimana cara membangun hubungan yang baik dengan pelanggan. Strategi inilah yang disebut dengan Customer Relationship Management (CRM). Pada BCA KCU Situbondo, dalam penerapan strategi CRM diperlukan adanya kemampuan dari sumber daya manusia dalam badan usaha. Munculnya permasalahan pada sumber daya manusia dapat menghambat customer relationship management. Oleh karena itu, untuk mengatasi masalah yang terjadi pada BCA KCU Situbondo dan mendukung strategi customer relationship management maka diterapkan sistem pengendalian manajemen. Sistem pengendalian yang diterapkan pada BCA KCU Situbondo adalah action dan result control.
Downloads
Download data is not yet available.
References
Anthony, Robert N., dan Govindarajan, Vijay. 2002. Sistem Pengendalian Manajemen edisi pertama. Jakarta: Salemba Empat.

Anthony, Robert N., dan Govindarajan, Vijay. 2007. Management Control System 12th edition. New York : McGraw Hill Education.

Brown, Stanley W. 2000. Customer Relationship Management. Singapore: John Wiley and Sons Canada, Ltd

Buttle, Francis. 2004. Customer Relationship Management Concept and Tools 1st edition. Sydney: ELSEVIER

Buttle, Francis. 2007. Customer Relationship Management (Manajemen Hubungan Pelanggan). Bayumedia. Jakarta.

Elsingerich, Andreas. Simon. Bell. 2006. Relationship Marketing in the Financial Service Industry: The Importance of Customer Education, Participation, and Problem Management for Customer Loyalty. Journal of Financial Service Marketing Pg. 86-87.

Jill Dyche. 2002. The CRM Hand Book : A Business Guide to Customer Relationship Management.

Kalakota, Ravi & Maria Robinson. 2001. E-Business 2.0 : Roadmap for Success. Addison Wesley, Longman Inc., USA.

Kartajaya, Hermawan. 2002. MarkPlus on Strategy. Jakarta: PT Gramedia Pustaka Utama.

Kincaid, Judith W. (2003). Customer Relationship Management. Upper Sadle River. New Jersey : Prentice Hall.

Kotler, P., & Armstrong, G. 2004. Principles of marketing. Prentice Hall: New Jersey

Merchant, K.A., & Van der Stede, W.A. 2003. Management Control Systems: performance measurement, evaluation and incentives. Harlow, UK: Financial Times/Prentice Hall. London.

Merchant, K.A. and Stede, W.A. 2007. Management Control Systems: Performance Measurement, Evaluation, and Incentives. 2nd Edition. Prentice Hall. London.

Østergren, and Stensaker. 2011. Accounting for Managers: Interpreting Accounting Information for Decision Making 5th edition. Paul M.Collier.

Parvatiyar, Atul & Jagdish N Sheth. 2001. Customer Relationship Management: Emerging Practice, Process and Dicipline. Journal of Economic and Social Research 3.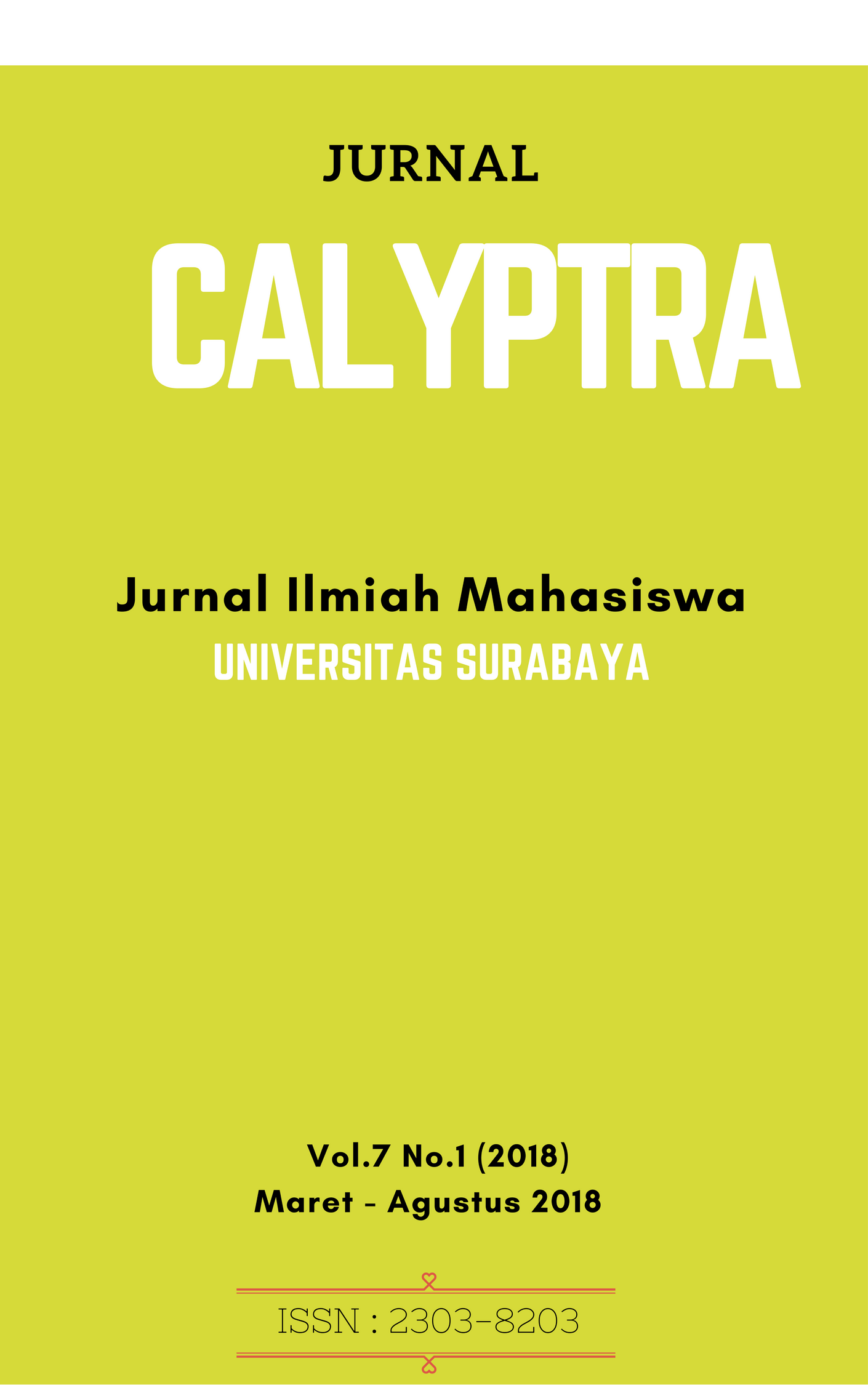 How to Cite
SUTIJONO, Vanessa Nathasia; PONTJOHARYO, Wiyono. PENERAPAN FORMAL CONTROL DALAM MENDUKUNG CUSTOMER RELATIONSHIP MANAGEMENT PADA BCA KCU SITUBONDO.
CALYPTRA
, [S.l.], v. 7, n. 1, p. Hal. 231 - 243, mar. 2018. ISSN 2302-8203. Available at: <
http://journal.ubaya.ac.id/index.php/jimus/article/view/1147
>. Date accessed: 29 mar. 2020.
Section
Bidang Akuntansi (AK)