PENGARUH SOCIAL STORIES TERHADAP KETERAMPILAN KOMUNIKASI PRAGMATIS ANAK DENGAN GANGGUAN ASPERGER
Shella Tanriady

Fakultas Psikologi Universitas Surabaya

Hartanti Hartanti

Fakultas Psikologi Universitas Surabaya

Aniva Kartika

Fakultas Psikologi Universitas Surabaya
Abstract
Anak dengan gangguan asperger mengalami defisit dalam komunikasi pragmatis sehingga mengakibatkan kesalahpaham dan keterkucilan dari lingkungan sekitar. Tujuan dari penelitian ini (1) memperoleh gambaran keterampilan komunikasi pragmatis anak dengan gangguan asperger, (2) mengetahui keefektifan Social Stories terhadap keterampilan komunikasi pragmatis anak dengan gangguan asperger. Teknik pengambilan sampel yang digunakan adalah purposive sampling. Analisis data yaitu (1) secara Kuantitatif melalui Trend Analysis, (2) Kualitatif pencatatan hasil deskripsi observasi pada masa baseline, treatment dan setelah pemberian treatment. Hasil penelitian asesmen menunjukkan bahwa terdapat peningkatan keterampilan komunikasi pragmatis pada anak dengan gangguan asperger, sebelum, dan setelah diberikan Social stories dengan masa treatmen 2 minggu. Terdapat faktor yang mempengaruhi keefektivan intervensi : (1) Faktor Internal; kemampuan sosial, watak, danmotivasi, serta (2) Faktor Eksternal; pola asuh dalam keluarga dan dukungan dari lingkungan pendidikan yang menunjang perubahan perilaku.
Downloads
Download data is not yet available.
References
American Psychiatric Association. (1994). Diagnostic and Statistical Manual of Mental Disorders (4th ed.). Washington DC: Author.


Attwood, T. (2005). Sindrom Asperger. Jakarta: PT. Dian Rakyat.


Attwood, T. (2007). Sindrome Asperger: Panduan bagi Orangtua dan Profesional. Jakarta: PT. Serambi Ilmu Semesta.


Cox, A.J. (2007). Teaching Boys Pragmatic Communication. Diuduh pada tanggal 16 Juli 2012 dari: http://www.dradamcox.com/pdf/PragmaticCommunication.pdf


Crozier, S., Sielo, M.N. (2005). Encouraging Positive Behavior With Social Stories: An Intervention for Children With Autism Spectrum Disorders. Diuduh pada tanggal 18 Juli 2012 dari: http://www.hsmjs.org/Autism%20Handouts/Encouraging%20Positive%20Behavior.pdf


Ehlers, S., Gillberg, C., Wing, L. (1999). A Screening Questionnaire for Asperger syndrome and other High-functioning Autism Spectrum Disorders in School Age Children. Journal of Autism Developmental Disorders 29 (1999) 129- 141.

Kaunang, T. (2005). Diagnosis dan Penatalaksanaan Gangguan Asperger (sub bagian Psikiatri Anak dan Remaja). Jakarta: Fakultas Kedokteran Universitas Indonesia Rumah Sakit Umum Pusat Nasional Cipto Mangunkusumo.


Painter, K.K. (2006). Social Skills Groups for Children and Adolescents with Asperger's Syndrome: a Step-by-Step Program. London dan Philadelphia: Jessica Kingsley Publishers.


Quirmbach, L.M., Lincoln, A.J.,Monica. (2008). Social stories: Mechanisms of Effectiveness in Increasing Game Play Skill in Children diagnosed with Autism Spectrum disorder using a pretest posttest repeated measures randomized control group design. Journal Autism Developmental Disodres 39 (2009) 299- 321.

Sansosti, F.J., Smith, K.A., Cowan, R.J. (2010) High-functioning Autism/ Asperger Syndrome in Schools: Assessment and Intervention. The Guliford Press: New York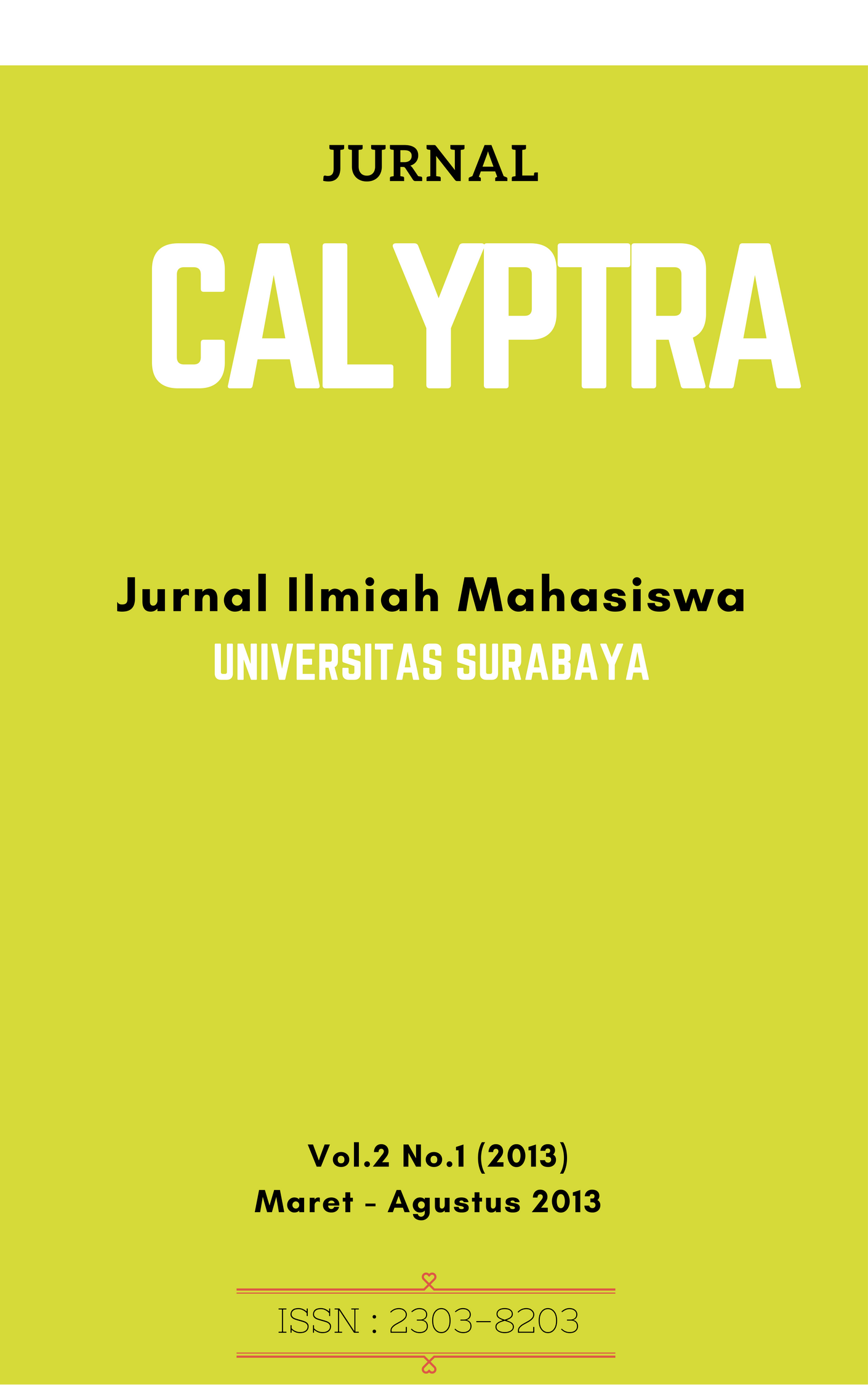 How to Cite
TANRIADY, Shella; HARTANTI, Hartanti; KARTIKA, Aniva. PENGARUH SOCIAL STORIES TERHADAP KETERAMPILAN KOMUNIKASI PRAGMATIS ANAK DENGAN GANGGUAN ASPERGER.
CALYPTRA
, [S.l.], v. 2, n. 1, p. Hal. 1 - 9, mar. 2013. ISSN 2302-8203. Available at: <
http://journal.ubaya.ac.id/index.php/jimus/article/view/386
>. Date accessed: 18 sep. 2019.
Section
Bidang Magister Sains Psikologi