KUALITAS LABA PERUSAHAAN KELUARGA DAN PERUSAHAAN BUKAN KELUARGA DI INDONESIA
Rini Megawati Wargono

Jurusan Akuntansi Fakultas Bisnis dan Ekonomika Universitas Surabaya

Yie Ke Feliana

Jurusan Akuntansi Fakultas Bisnis dan Ekonomika Universitas Surabaya
Abstract
Penelitian ini bertujuan untuk menguji kualitas laba perusahaan keluarga dan bukan perusahaan keluarga. Pengukuran kualitas laba perusahaan pada penelitian ini menggunakan empat pengukuran, yaitu discretionary accruals, predictiability of cash flows, earnings persistence, dan earnings response coefficient. Populasi yang digunakan dalam penelitian ini adalah perusahaan manufaktur yang terdaftar di Bursa Efek Indonesia (BEI) periode 2011-2012. Penggunaan perusahaan manufaktur dikarenakan jenis industri manufaktur merupakan kelompok industri yang paling banyak dan dominan di Indonesia. teknik pengambilan sampel penelitian ini menggunakan purposive sampling. Variabel independen yang digunakan adalah, Family firm, Earnings. Variabel dependen yang digunakan adalah ABSPADCA, PADCA, Quality, Persistence, Return. Hasil dari penelitian ini menunjukkan bahwa kualitas laba yang dilaporkan oleh perusahaan keluarga maupun perusahaan bukan keluarga memiliki kualitas yang sama.
Downloads
Download data is not yet available.
References
Ali, A., Chen, T. Y., Radhakrishnan, S., 2007. Corporate disclosures by family firms. Journal of Accounting and Economics 44 (2007) 238-286.

Atmaja, L. S., Haman, J., Tanewski, G., 2011. The role of board independence in mitigating agency problem II in Australian family firms. The British Accounting Review 43 (2011) 230-246.

Claessens, S., Djankov, S., Lang, L. H. P., 2000. The separation of ownership and control in East Asian Corporations. Journal of Financial Economics 58 (2000) 81-112.

Connelly, J. T., Limpaphayom, P., Nagaraja, N. J., 2012. Form versus substance : The effect of ownership structure and corporate governance on firm value in Thailand. Journal of Banking & Finance 36. 1722- 1743

Efferin, S., Stevanus Hadi Darmadji, & Yuliawati Tan. Metode Penelitian Akuntansi. Yogyakarta : Graha Ilmu, 2008.

Ghozali, I., 2009. Aplikasi analisis multivariate dengan program SPSS. Badan penerbit Universitas Diponegoro. Semarang.

Gilson, R. J., and Gordon, J. N., 2003. Controlling controlling shareholders. Working paper No. 228.

Indonesian Capital Market Discretory (ICMD), BEJ, Jakarta, 2012 dan 2011

Jaggi, B., Leung, S., Gul, F., 2009. Family control, board independence and earnings management : Evidence based on Hong Kong firms. J. Account. Public Policy 28, (2009) 281-300.

Kusuma, H., 2006. Efek informasi asimetri terhadap kebijakan dividen. JAAI, Vol. 10, No. 1, 1-12.

La Porta, R., Lopez-De-Silanes, F., and Shleifer, A., 1999. Corporate ownership around the world. Journal of Finance. Vol.54 no. 2, 471-517.

Machuga, S., Teitel, K., 2009. Board of director characteristics and earnings quality surrounding implementation of a corporate governance code in Mexico. Journal of International Accounting, Auditing and Taxation 18 (2009) 1-13.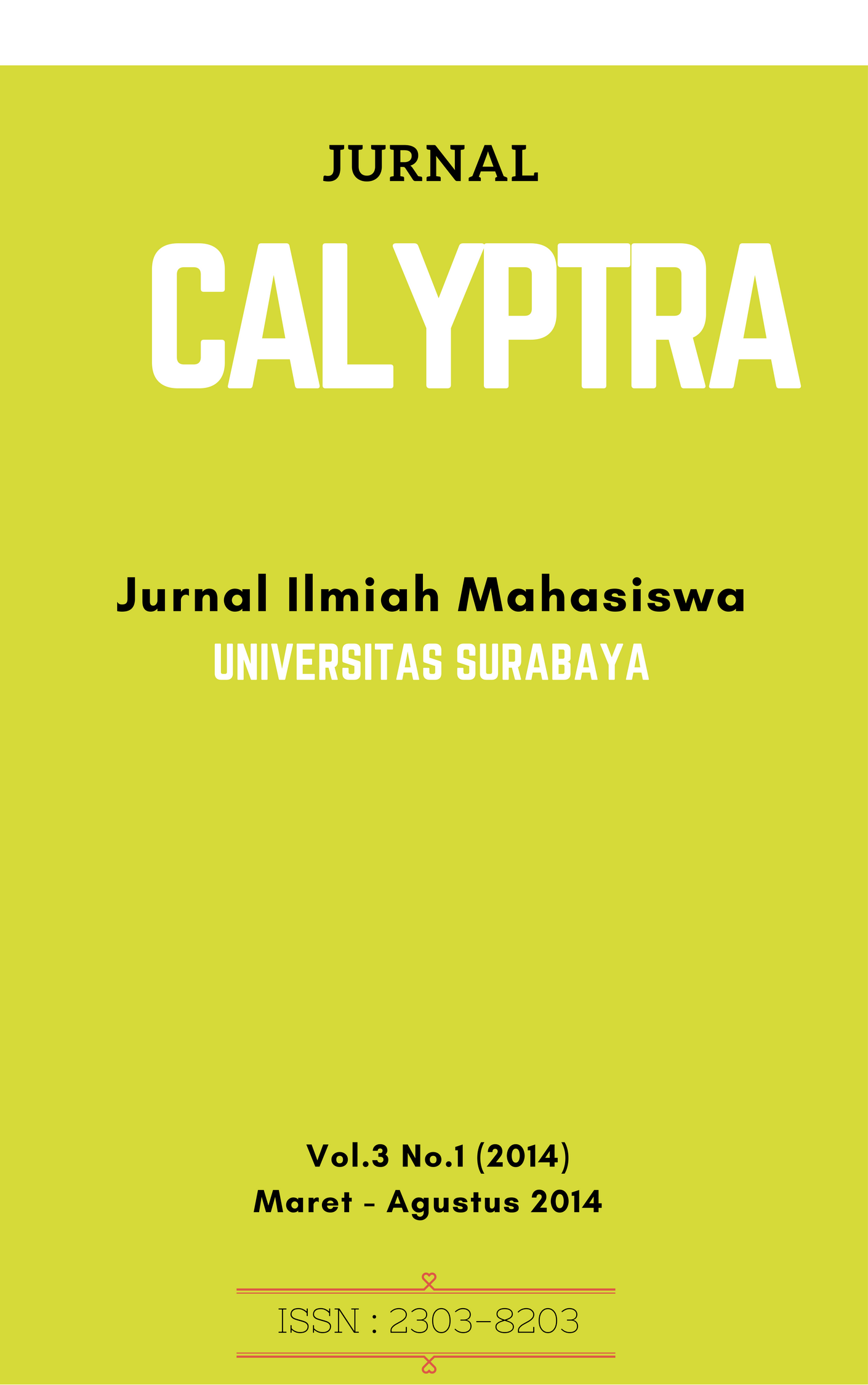 How to Cite
WARGONO, Rini Megawati; FELIANA, Yie Ke. KUALITAS LABA PERUSAHAAN KELUARGA DAN PERUSAHAAN BUKAN KELUARGA DI INDONESIA.
CALYPTRA
, [S.l.], v. 3, n. 1, p. Hal. 1 - 14, mar. 2014. ISSN 2302-8203. Available at: <
http://journal.ubaya.ac.id/index.php/jimus/article/view/882
>. Date accessed: 28 may 2020.
Section
Bidang Akuntansi (AK)